The Thunderbolt -- A Weather Wonder
Welcome to The Thunderbolt -- A Weather Wonder...last updated on Sept. 21, 2023. The website is dedicated In Loving Memory of his late wife, Janice E.H. Stout.
No Emails originate from wx4qz.net; those are SPOOFED/BOGUS, and should be DELETED!! If you wish to contact me, click here. The page was started on Oct. 1, 1997, when the original domain was first obtained. As of Sept. 25, 2021, the domain has CHANGED from https://www.theweatherwonder.com to http://www.wx4qz.net -- mainly because that's my ham radio callsign, and I've been doing ham radio traffic nets since I was first licensed over 30 years ago. The Thunderbolt is for my computer BBS, and ''we analyze data, forecasts, and text, but wonder what weather will happen next. As a note, if you can't connect to the BBS, it may be down for thunderstorms, power/internet outages, or maintenance...please try again later. For the latest weather data and forecasts for Arkansas, click here.

It's a
, a
,
, and created with the
HTML Editor. Your Webmaster is Daryl Stout, WX4QZ. The total number of hits is at the bottom of the page.

---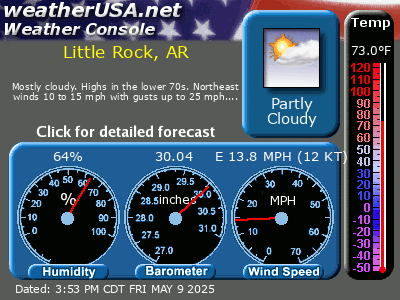 ---
To enter The Thunderbolt Website, click here.
---
Total Visitors Since The Site Came Online: